Hendrix style Chord Embellishments
LAST CHANCE. This downloadable course will be removed on soon.
This is a great way to improve your chord knowledge. I've crafted a lesson on how to play chord embellishments in the style of Jimi Hendrix. It's not only Jimi style, however. I've included a variety of ways to "spice up" your chord playing – ways I've been playing for many years.
You will get 6 videos in this lesson. This includes the chord progression, the performance, the breakdown, and I've also included a Tab/Notation video. If you find it challenging, you'll be happy to know that there is also a 75% slower version included. I go to great lengths in making sure it's easy to learn from my lessons!
My hope is that you can take these embellishment ideas and make use of them in your playing over major and minor chords. The best thing you can do is to learn these, and then alter them a bit. Make them fit into the songs you like to play. Tweak them to your needs – there is so much you can do with these ideas!
When you are ready to learn a Hendrix style solo, it's available here. Or just get the bundle below.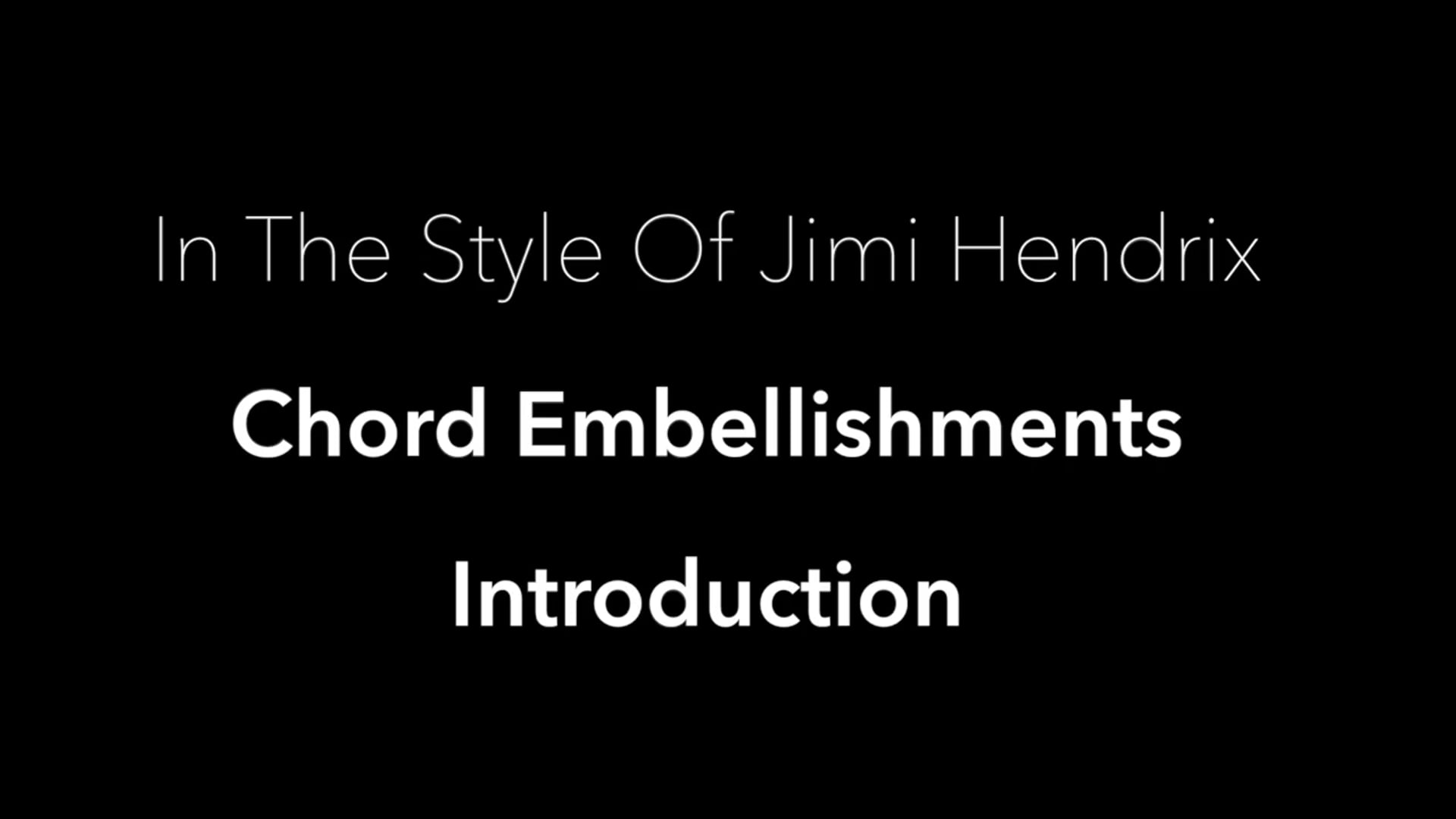 02:55
SALE – Both as a Bundle  
Buy them separately
In The Style of Jimi Hendrix – Chord Embellishments
Average rating:
13 reviews
Apr 29, 2023
Amazing sound
Amazing sound and great lesson.
Aug 25, 2021
Robert, this little course is so great. I'm only 8 minutes into the lesson breakdown but am really digging it.

It's beautiful, flexible, and you teach it at the perfect pace for me. The overhead video point of view also makes it easier to see all the fingerings and double-stop moves vs. the normal straight on view.

Thanks so much.

/Ari
May 17, 2018
Great lesson
Robert comes up with some of the coolest tastiest and useful guitar licks, and the way Robert lays out the lesson makes it easier and quicker to learn what it is that he's demonstrating. By using multiple camera angles showing you the view of the fretboard from your perspective is very helpful. I have been playing for 40 years plus and I have learned a great deal from Roberts lessons. I would highly recommend Roberts lessons for anyone who wants to improve there musical vocabulary great job Robert, and thank you.
Aug 16, 2016
In Style of Jimi Hendrix - Chord Embellishments
With this lesson, Robert has put together a great new approach with playing a chord progression (using scale theory). His other lesson - Solo In The Style Of Jimi Hendrix - The Wind Axes Mary, goes well with this lesson, as you learn 17 licks. What I found good to try out was playing Roberts Mp3 chord embellishments performance track (included in the lesson), as a backing track while using/playing the licks learned from The Wind Axes Mary lesson. Getting both lessons works well for each other to learn from and try out.
Jul 13, 2016
The Style of Jimi Hendrix-Chord Embellishments
Robert has masterfully created perhaps the greatest one lesson study of this the greatest electric guitarist of all time! It is remarkable how quickly I've grasped the essence of Jimi's great playing thanks to Robert Renman's fantastic in-depth study. It may be a relatively short course but it's long on technique and style. I come back to the course ever so often and get yet even more pointers I'd missed but fortunately, Robert's got some dynamite features that allow me not only to slow the play down but get back into the nuts and bolts of the complete lesson description! Super bang for your buck!! Jim C.
Jul 13, 2016
Hendrix Chord Embellishments
A creative and detailed insight into those beautiful walking chord movements within a song structure that Hendrix did as easy as breathing. Waited for 40 years for such a lesson. Thanks Robert
Jul 13, 2016
Dear Robert, You always deliver great a lesson. Hope to be buying your lessons real soon.


Jul 11, 2016
Top lesson !
Thanks for taking the time to put the approach that Jimi took with these types of progressions into such a comprehensive lesson. I can now understand this aspect of his playing, which I have admired as much as his mastery of the blues.
Jul 11, 2016
Outstanding!!!
Awesome, tremendous lesson. This may displace your Robben Ford lesson as my personal favorite. Great ideas for rhythm guitar and more great ideas for lead guitar. Hendrix was a phenomenal guitar player and you have captured his style and presented it in a clear understandable way... it may take some practice to get it down but it will be a joy to work on and well worth it in the end.
Jul 11, 2016
Hendrix chords
Robert, this is a great lesson! What I love about this one is that you have put the licks together on top of a beautiful chord progression. Licks plus chord progression really make sense. This one is also fun to play.



Another great contribution from Master Guitar Academy.
Jul 11, 2016
Again a great lesson from you, Robert.

The technics take a little bit of practice but understanding the theory and tricks is very helpful to integrate this in to your own playing. A lesson I was waiting for !
Jul 11, 2016
Member
Another excellent lesson series! Your use of chord tones and explaining the intervals involved is extremely helpful for my fretboard orientation plus it makes it easy to transpose to another key. I think the flat sixth is part of the harmonic minor scale, yes? Very cool.

Thanks Robert
Jul 4, 2016
A gem of a lesson
This is a beauty of a lesson, with a beautiful chord melody that really sticks in your ears - I find myself humming it repeatedly. It's a style of playing that I've always loved and I'm learning so much about how it works from this lesson. It moves you from the realm of bar-chord playing to these rich embellished chords that flow on to another. Bravo, Robert!