A Classic Minor Blues Tune
This is a classic D Minor blues tune, a great song for several reasons: it has a great melody, it's fairly easy to improvise over it, and it's suitable for practicing arpeggios and scales too. The amount of effort I've put into this lesson will really help your ability to solo over other minor blues songs as well, like for example, The Thrill Is Gone and many others. You can also view this course as a "light step towards jazz", if you will, although I've not gone deep into jazz theory at all.


What's in this course?
This course is nearly 3 hours long, and there are several important things to learn here.
The chords and the chord progression. I cover this in detail.
The melody. You will learn two different ways to phrase/interpret the melody.
Improvising. Using the minor blues scale for soloing over all the chords. I will teach you how this is done.
Using arpeggios and chord tones for soloing. This is the type of playing that makes your solos and licks sound strong and powerful.
Lastly, I have created 3 solos for you to learn in detail, where 2 are of intermediate level and they are short. The licks in the solos are explained from the perspective of scales, arpeggios and chord tones. This is how you learn for life. The third solo is advanced, and features more advanced harmony and faster lines.
The videos have Chapters for the key sections. This makes it easy to jump between licks or between the main sections in a video. This is true for both the DVD videos and the Download videos.
Why should you buy this?
Because you will learn a great song in detail, both chords and melody, as well as how to solo over it. I go quite deep into how I approach playing over a classic tune like this, and you will learn strategies that carry over to other songs and other situations. Everything is laid out for you, and explained in detail. So the short answer is – you will learn a lot from this course.
Lyrics
I went down to St. James Infirmary,
Saw my baby there,
Stretched out on a long white table,
So cold, so sweet, so bare.
Let her go, let her go, God bless her,
Wherever she may be,
She can look this wide world over,
But she'll never find a sweet man like me.
Video Examples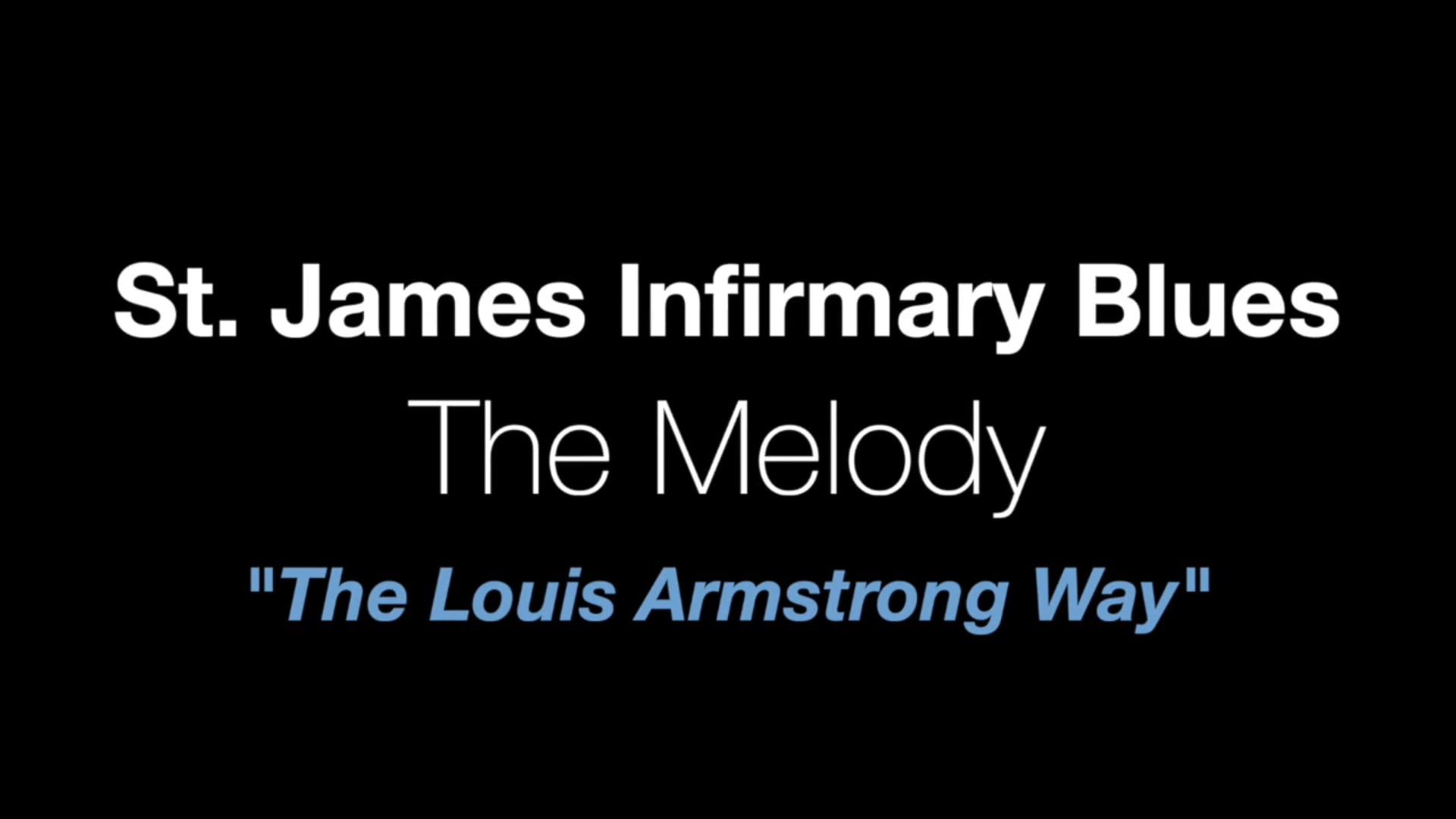 09:26
02:21
---
Structure of the lesson files
Reviews of this course

St. James Infirmary Blues

Average rating:

6 reviews

Jan 12, 2021

Great Course

I have thoroughly enjoyed working through this course. It's a great song and taught extremely well. I look forward to finishing it. I already can play it well enough to play for others.

Nov 28, 2020

Great lesson Robert as always!

Apr 21, 2016

St James Infirmary Blues

Well Robert gets the vocal out in this one, and yes he may not have the vocal range of a Viking Thunder God, and he may not get an invite to perform at the Opera with his smooth Baritone voice. But within the course you get to learn a great chord progression and melody, soloing and matching vocal with chord tones and arpeggios, and with scale theory to phrasing. Which is what I have been wanting to know for a while and put together. I have learnt quality music theory from a small number of people over many years, in what I wanted to know and in my own way and what worked for me, and happy to say Robert is one of these people I have learnt from. These people have kept me going and improving, if it wasn't for these people - I wouldn't be around.

Sep 22, 2015

This lesson is a must have. The music is hypnotic and the lesson can help a beginner such as myself and still challenge an experienced player. I recommend this course overwhelmingly.

Sep 16, 2015

St. James Smooth is what you get for instruction. Robert provides hours of detailed lessons building from basic chord progressions, to melody phrasing, and then on to solos that turn a Louis Armstrong classic into a modern Jazz Blues piece a la Scofield.



In typical Renman style, Robert walks you along each element teaching you a broad set of skills and easing in theory that will take you far beyond the song.



St. James Infirmary Blues is a classic tune that can be shaped and expanded according to your skills and attitude- Robert's Master Guitar Academy lessons make this tune compelling and infectious- Easy to start, Hard to put down! Thanks, Robert.

Sep 14, 2015

I have to say that this is by far the best instructional video I have worked on to date.



Not only do you get to learn a classic solo at three different levels, you also reap the benefits of multiple improvisational skills that will last you a lifetime.



The theory behind how these solos are structured are worth the price of admission themselves. Robert Renman's "St. James Infirmary" will leave you with a set of tools that will take your improvising skills to the next level and beyond.



This is a must have course for anyone who simply wants to learn 3 awesome solos and/or get an education on improvising that will enhance your guitar knowledge as a whole.