Hey, are you a fan of BB King or Eric Clapton?
In this course, you will learn a minor blues tune in the style of "Help The Poor". This is a tune that B.B. King & Clapton recorded in the year 2000.
The tune is not a 12 bar blues. Instead, it has 2 sections; a 16 bar long A section and an 8 bar long B section. This makes it really interesting and fun to play!
The 33% discount will be automatically added once you click "add to cart".
Low Income Blues
16 Videos (slow-motion included), Tablature/Notation, Backing Tracks. Size of download: 1.9 GB. Bonus lesson: Triads - Arpeggios - Chord Tones (570 MB).
What will you learn?
You will learn how to solo in the style of B.B King and Eric Clapton.
The solos span 56 bars of blues licks.
Each lick is explained note-for-note, and I refer to intervals and chord tones throughout.
The chord progression and the chords.
Detailed breakdown of the chords and rhythm parts.
The progress indicator shows you where in the song you are, which is really helpful for learning.
A minor blues that deviates from the typical 12 bar blues form
Who is this for?
This course is of late beginner to late intermediate difficulty level. The first 2 solos are the easiest ones, and the last 2 provide a little bit more challenges. The tempo is comfortable, 105 BPM.
What's included?
16 videos with chapter markers for each of the licks.
Slow motion solo performances.
MP3 of the full solo (4 solos as one solo)
Tablature and notation.
Guitar Pro files (optional).
6 Backing tracks
Learn 6 Licks now
I have 6 licks for you to learn. These are easy, tasty, authentic BB King Licks.
Come check it out here:
Bonus Lesson – Triads & Dom 7 Arpeggios
To make this an even better package, a bonus lesson valued at $20 has been added to "Low Income Blues". This is a 29 minute introductory course on the concept of Triads and Dominant 7 Arpeggios.

It comes with 3 videos, tablature and Guitar Pro files, and 14 neck diagrams. It's a lesson that will help you understand and visualize these important chord tones that we use in most licks.

I have added this bonus to make it easier for you to learn from the licks breakdown in "Low Income Blues". This means that if you aren't very familiar with these sweet and important notes, this lesson will help you out a lot. The neck diagrams are also added to the video screens – very easy to learn from!
Order now
The 33% discount will be automatically added once you click "add to cart".
Low Income Blues
16 Videos (slow-motion included), Tablature/Notation, Backing Tracks. Size of download: 1.9 GB. Bonus lesson: Triads - Arpeggios - Chord Tones (570 MB).
Solo 1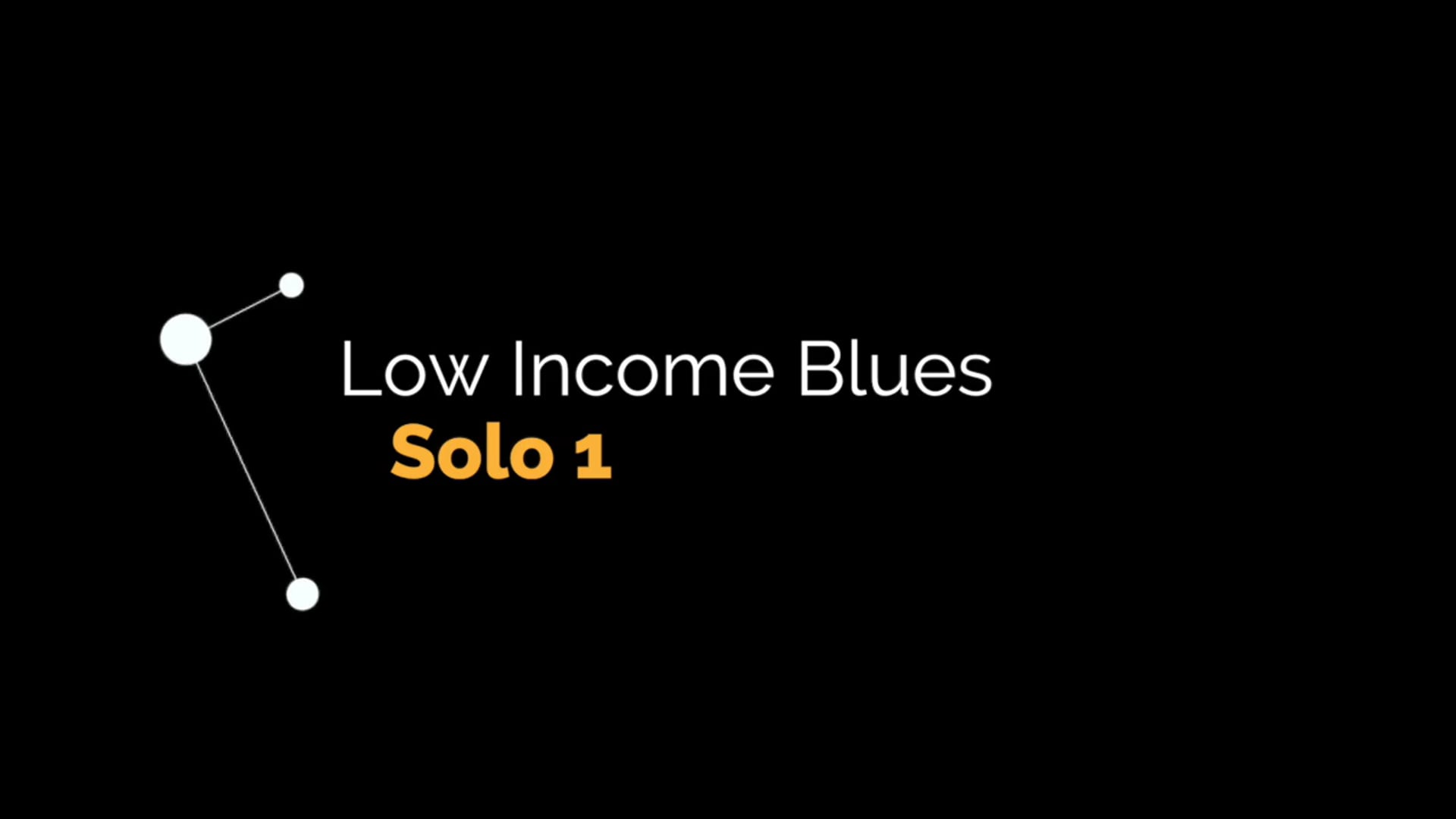 00:49
Add Your Testimonial Below
Low Income Blues
Average rating:
5 reviews
Dec 6, 2018
Low Income Blues
A really fun solo to play, I like the way it gets progressively more difficult while combining the styles of 3 Blues greats - BB King, Clapton and...Renman. However, I must say that there is a lot of emphasis on intervals and tonal chords which do not really interest me so much and perhaps not enough on counting out the notes for example also between the licks. Each Lick is treated separately and then you have to join them yourself. There is no guidance for the right hand - I do not use a pick - and perhaps most surprisingly, apparently you can only play at 2 speeds - full speed or -75% . That said, it is still a really nice package.
Aug 14, 2018
Cool and Challenging
After the Jump Blues this is my 2nd course with Robert and it is again a fun but challenging one especially solo 3 and 4. It was especially gratifying when I was able to play along the backing track.

Thanks - Robert
Jul 2, 2018
Low Income Blues
A new course created by Robert Renman from Master Guitar Academy (MGA), entitled 'Low Income Blues' is available. A new gold series course based on the well known song 'Help the Poor' published by BB King and Eric Clapton a few years ago. The course is extremely dynamic and covers from the beginner level to the most advanced level. But, we should not get a wrong idea. Even those easiest licks provide small tricky details which make the lessons extremely interesting for everyone.



Let me add that I met Robert as for the first time about 2008-2009. This means about 10 years ago and I must say that Robert is without not doubt one of the best guitar instructors that I ever had.



I recommend this lesson, but also the most important, the way in which Robert is teaching us. Once again, you nailed it, Master.
Jul 1, 2018
You can always count on Robert Renman from Master Guitar Acedemy to come up with really great lessons that include awesome rhythm parts and melodic solos that are fun to learn and fun to play... Once again, Low Income Blues fits that bill.



Thanks Robert for another great package from MGA!
Jul 1, 2018
Great course!
This is by far the best blues solo lesson I have come across in a long time. I've tried my share of instructors over the years. However, they never seem to have the same level of depth and structure as Robert Renman, let alone the community support that's available on the MGA forum.



Best of all you learn it at your own pace and of course the price is a no brainer.



Great job Robert!