Get Your Funky Blues On
Last chance – this download will soon be removed from the website – grab it now while you still can
Do you like funky blues? Do you like Robben Ford's style of playing? Then you will enjoy this course I've created. You will learn how to play some funky strumming over a straight blues in the key of A, and you will learn 2 really fine guitar solos. One solo is intermediate level, while the second one is advanced, with lots of fast runs and hip notes. I designed his course to give you some challenging licks and rhythms to work on.
Who is this course for?
This course is for those of you intermediate level players who can already play a shuffle blues, knows the pentatonic scale, and a few blues licks. Perhaps you are ready to dig into some more challenging phrases and licks, using a straight and funky groove? In other words, this course is for someone who has been playing blues for a while, but wants to learn great sounding, funky blues licks, in the style of Robben Ford. The licks are also carefully explained, so that you can learn from the licks. I teach the chord tones and intervals for the licks, because my goal is to help you see why some licks sound great. After you have studied and learned these licks, you will be well prepared for coming up with your own cool licks. Now, the licks are not copied verbatim from Robben Ford. No, I would describe this course as inspired by, because there is a lot myself in here too. I can't help that – but I think the solos are really good. I am quite proud of them both, and I hope you will like them too.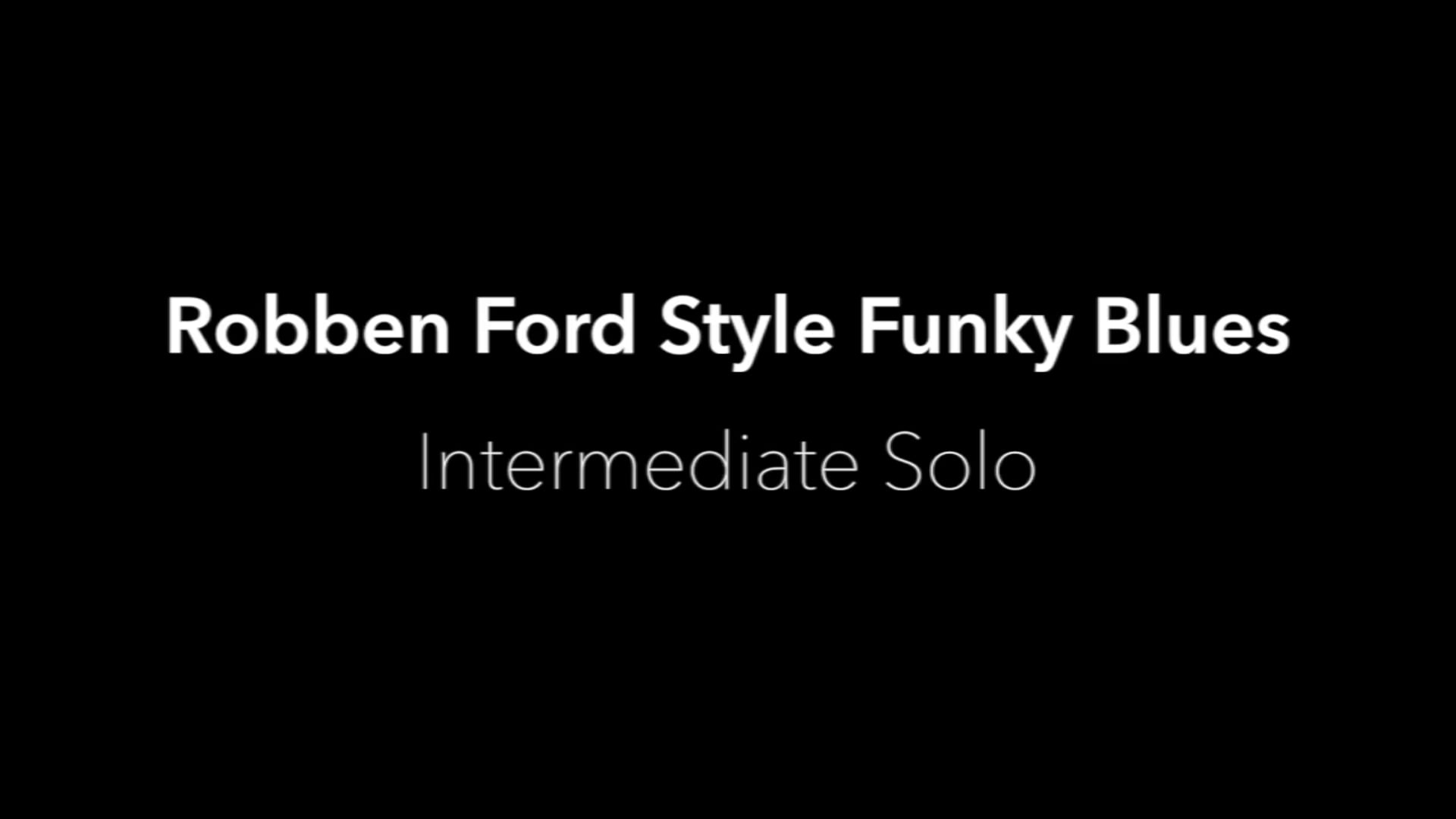 01:30
What Is Included?
You will get a link to download the lesson files, which include a READ ME file (instructions). After you open the lesson file, you will see folders for Backing Tracks, Tablature (TAB and Guitar Pro files), Solo tracks (the 2 solos on mp3 format, for your convenience), the Line 6 POD HD500 preset I used for the solos, and the video file.
My Students Like This Course
I love hearing my students play the lessons I create. Esteban has been kind enough to let me use his video of him playing the first solo from this course. Check it out below. I think he did a great job.
Esteban playing the first solo
Advanced Solo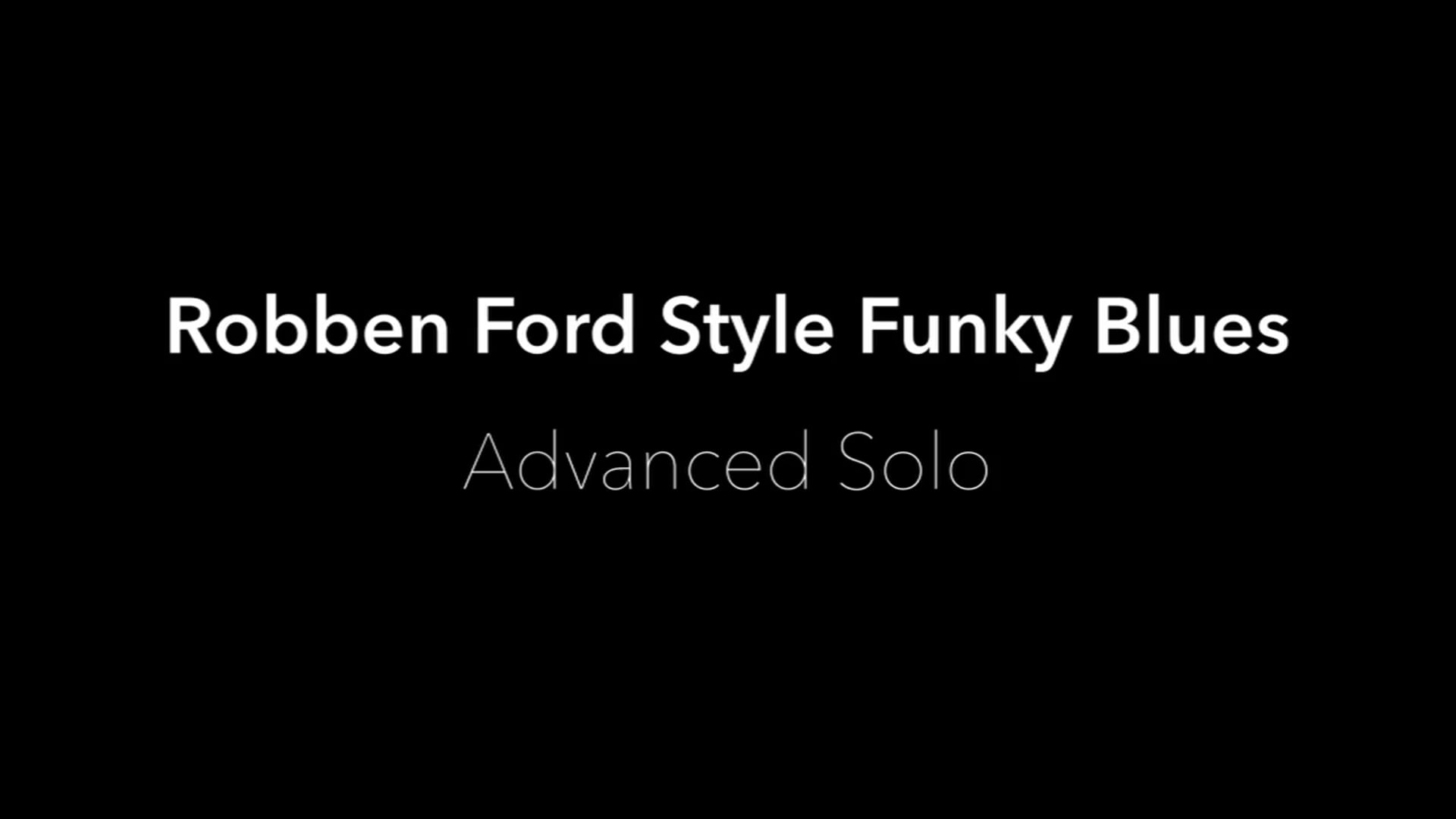 01:24
Order Download Only
Testimonials
Average rating:
8 reviews
Dec 8, 2020
Robert Renman
Great instruction! Awesome material!
Apr 4, 2015
Great 12 bar blues lesson
Well, I'm not going to write a whole lot here; but this is a great lesson (And of course Rob's teaching style is *so* good.)



One thing I liked: When we are playing 12-bar blues, we are almost always into a shuffle beat; but in this lesson the beat is much "straighter", and so it just makes a nice change from the usual stuff, me thinks.



The lesson is divided into Intermediate and Advanced, and I think that division is accurate. The Intermediate is not for raw beginners, but is easy to get on top of if you are an intermediate player. And the Advanced is pretty challenging for sure, but if we are going to grow as players, the only way is to challenge ourselves from time to time.



If you are into 12-bar blues, you'll like this lesson; just go get it!



bp/nova scotia
Jan 12, 2015
Robben Ford Style Funky Blues Review
Brilliant, Robert; this is great lesson with high quality production and supporting materials. This lesson really hits all the elements that the intermediate guitar player must learn to raise the bar of skill and feel. The Rhythm foundation, like all of your instruction, is explained and demonstrated with great care and skill that keeps the student involved and improving. But it's the Solo sections that really shine and turn this lesson into a course of it's own. The Intermediate Solo, seemingly simple at times, is the perfect platform and springboard to move into the Advanced Solo without being overwhelmed. These lesson segments provide the physical and theoretical roadmap and skills to reach the next level of playing over changes, intuitively and intelligently.



Using Robben Ford's style, funky blues, adds the essential extra element of "Feel and Groove" that all players must acquire if they want to create music, communicate with others, and ride the wave that makes all of this so enjoyable. So what's the result? You learn so much more than how to play a song or a solo. You learn how to create, evoke and impress your own feel to rhythms and solos. You learn how to move across chord changes by feel, and you use some of those non-scale notes passing or implying motion.



We've all had those ah-ha moments and learned skills that are so fundamental and become ingrained in our playing- The Robben Ford Style Funky Blues is just one of those lessons. Thanks for making a high quality and valuable lesson that I will carry forward in my playing and musical expression.
Jan 5, 2015
Robert has done it again. After his success on the Bar Blues 1 course he has followed it with another great course with the Robben Ford Funky Blues. I found the DVD course was well laid out and easy to follow. The instruction is great and the breakdown of each lick, both intermediate and advanced, enabled me to play each one with confidence. Like any instruction you only get out of it what you put into it so practice and repetition is important but Robert takes you through each lick and rhythm in a way that is easy to understand and follow.
Dec 31, 2014
just wanted to let you know how much I enjoyed your Robben Ford Style Funky Blues package. I am really impressed, this is a great lesson with lots of awesome licks, tips and ideas, a really great group of lessons as well as a really complete package. In my opinion, anyone that works on this one will get some great stuff from it, whether they are an intermediate or even an advanced student.



I like how you included not only the video lessons and multiple backing tracks, but also the Guitar Pro files and the performance track. I was able to listen to the performance track and become familiar with the licks and solos during my commute back and forth from work. Great idea.



It was also a great idea to include a full tempo 115 BPM as well as a slower 90 BPM backing track. I am getting the advanced solo down using the 90 BPM backing track. I can see my speed picking up while working on this. I really do feel that with some more woodshedding I will get it to full speed.



I think this package ranks right up there with your Bar Blues, Scales You Can Use When Playing the Blues and Blues Booster package.

Thanks for the great package.
Dec 30, 2014
I still remember, a few years ago, first time my brother introduced me a Guitar instructor/teacher named Robert Renman from www.dolphinstreet.com. I was simply impressed who this person used to teach guitar in different styles including blues, rock, funky, country, etc. Rapidly, I though this is the way I wanted to learn guitar, this is how I want to play guitar. At that time, I started to learn the free lessons available at www.dolphinstreet.com and to increase the level with other lessons like ´Line it up´ or 'Get close'. Later, in 2012, I was learning my first gold lesson 'Bar Blues 1', an excellent lesson for beginners and intermediate. Really, amazing moments I experienced the blues feeling with my guitar.



Later, Robert Renman started a really nice and thrilling adventure, Master Guitar Academy (MGA, www.masterguitaracademy.com). In a few words, a real treasure for guitar students (in my opinion). Inside the webpage it can be smelled the passion for teaching and transferring of knowledge about the guitar. Many and many interesting lessons, sorted in short licks, cool riffs, songs and, of course, the gold lessons like 'A minor blues' or 'Slow Blues Hot´n Slow', etc.



These days, Robert Renman is introducing, from my point of view, a new and one of the best lessons ever created by MGA factory: the Robben Ford Lesson. In this new lesson it can be experimented a blues rhythm, an intermediate solo and, of course, an advanced solo. At the beginning, I though this was impossible for me to perform, but, listening all the small details explained by Robert, all videos, even at slow tempo, and step by step, lick by lick and after infinite trials, my performance was improving and the lesson was bit by bit, taking a place in my mind. It is really amazing to get the feeling that the fingers can ride by themselves along the fret.



Thank you so much Robert for the efforts and for this excellent lessons. I wish you all the best.

Esteban
Dec 30, 2014
Who else understand, play and teach Robben Ford style funky blues Like Robert Renman?

Just close your eyes,open your ears, and listen .

After that , grab your guitar , follow the guide and play each note.
Dec 30, 2014
I used to always believe that Robert Renman's Bar Blues1 course was his best work to date on MGA and I've raved about this on this site.....I now admit I was mistaken but in the most wondrous way!! Robert's colossal brand new Robben Ford Funky Blues course and especially those killer 18 Licks is not only his best work to date, I believe it's the finest soloing lesson out on the internet!! Anyone who wants to take that unmistakable giant leap from average soloing guitarist into the realm of phenomenal advanced player needs to get all these licks down, rearrange the licks to commit into permanent memory and then tweak each lick into their own various soloing work! This new course alone is worth the annual membership into MGA........but shhhhhhhhh!! Don't tell Robert because I don't want him to increase his fee or cease his ongoing quest trying to top himself with each of these lessons!! If there's a better blues soloing guitar course out there, I certainly have never discovered it and this is not from not trying! But would love to hear about it because I think we'd have to make a deal with that dude at the ole crossroads to find anything better, cooler or even explained more expertly!! Seriously, this is the ultimate course in soloing that I cannot put down and I know shall pay HUGE dividends to all my solos down the road!! Gift wrapped and placed under my tree just in time for Christmas!! Bravo Robert for once again coming through for us and in a very big way!!