Classic Minor E Minor Blues – You Got To Help Me
Sorry, this course is no longer available as a download. Contact me if you have any questions.
Green Onions? Sort of. This tune is very similar, no doubt. Sonny Boy Williamson recorded this in 1963, and Dr. Feelgood has a great version out as well. So, I've created a very complete course on how to play this tune. It's a fun one! It's a great tune to play at a jam, because it's simple and the tempo is just right.
What you will learn
First, I'm teaching how to play the rhythm guitar, in two different ways. Learning the rhythm guitar is something you SHOULD DO any time you learn a tune! Don't just go for the solo – record the rhythm guitar too, and you'll be a better player for it.
I've also created two different solos for you to dig your teeth into. Each solo is 36 bars long, and there is one Intermediate and one Advanced solo. So, you get 72 bars and 44 licks in total! That's not counting the rhythm guitars either. You will learn great licks, great techniques such as sweeps, trills, fast 16th note runs, sliding notes, bending, etc. In other words, you will learn to master this minor blues in depth.
What do you get?
You will get 13 videos in total.  I have also provided Tablature and Guitar Pro files for you, and there are of course Mp3 files for performances and backing track included.
The course is 1.5 hours long, and the download is a zip file of 1.7 GB. Note – you can NOT download this big file on a tablet, unless you have the right app for handling zip files. GoodReader is one that works well for iPads.
Who is it for?
This course is for Intermediate players who want to learn a fun minor blues tune, complete with rhythm and lead guitar. Since there are 2 solos, you can get plenty of licks and ideas for soloing. It's possible that some licks are a bit challenging, but don't let that stop you. Skip the hard ones, or learn them over time, or simplify them to suit you better. There are no rules other than – it's gotta sound good. Most of all – have fun with it!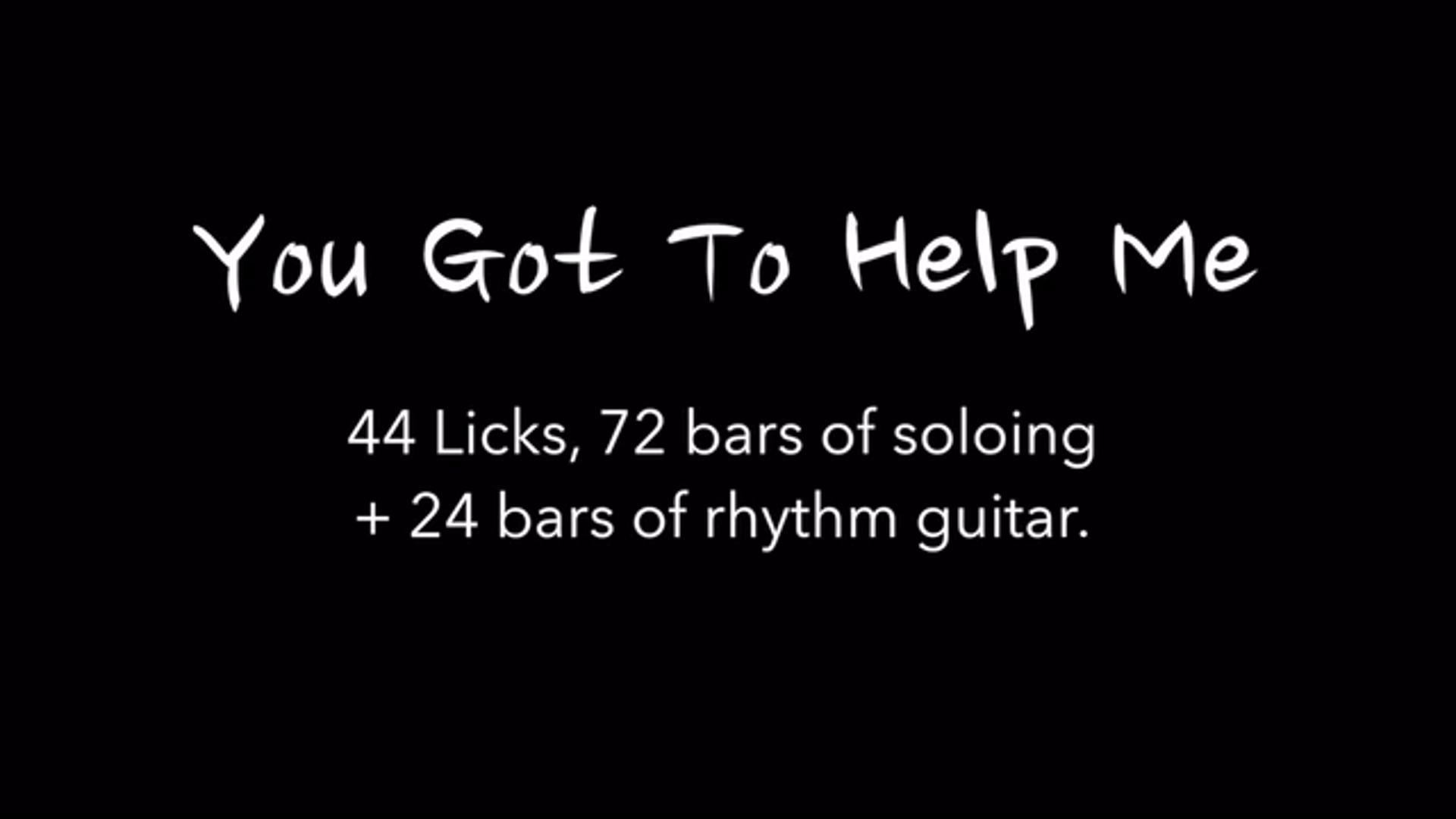 06:20
The 2 Solos Performed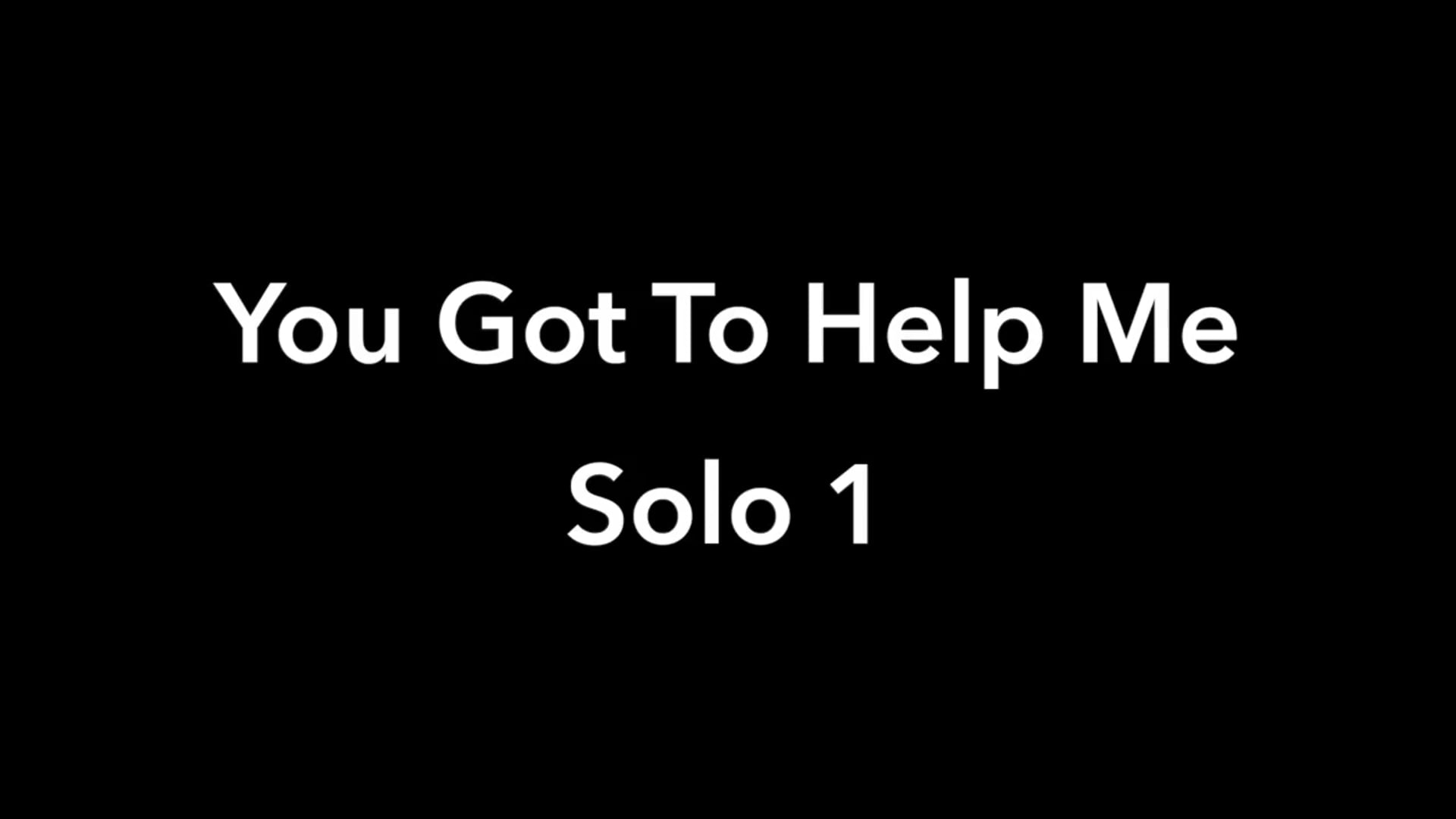 01:26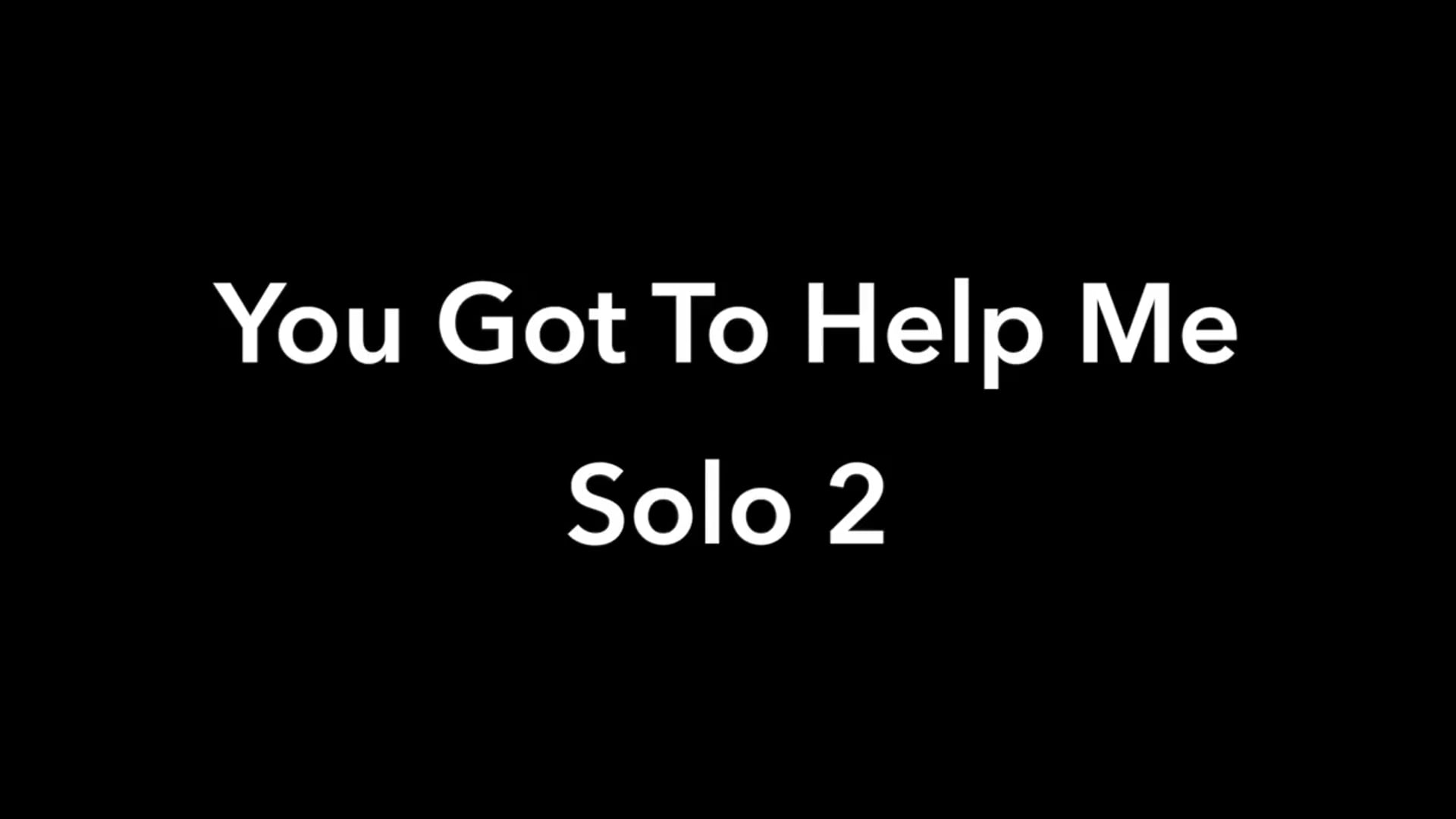 01:27
Order Now
---
Reviews
You Got To Help Me
Average rating:
10 reviews
Jul 4, 2019
I liked this course and with the Renman style to it, and combining Rhythm and Lead. Robert gives you various licks to try out, with different techniques. And showing the progression bar in the videos over the progression works well, especially when you are fitting the licks in around the chords, and getting your timing right, and gives you good explanation of relating the licks to the chords in the progression. And you can try a different configuration of the licks to make a different solo, and great for persons to learn with the easier solo parts and rhythm, then progress onto the harder ones.
Dec 5, 2018
Robert's "You Got To Help Me" is a great video. He breaks every thing down so you can understand it note for note. Robert is not only a great musician, he's also a great teacher. You can learn a lot from this lesson. I like the Soundslice - you can see how the melody and chords work together. Thanks Robert for sharing your music.
Jun 17, 2017
This is a fun piece to play and did make me practice hard to get all the licks down. The price for this kind of thorough lesson is really too low when you consider the value. It's melodic, uses all of the fret board and it's a great workout for both hands. I learned new licks, new amp settings and still working on fine tuning the timing.

Robert - let's have some more of these!! Great lesson!

Earle
Jun 5, 2017
You got to help me
Just like his other courses they are right on the money. No guessing on how things are taught. Straight forward lessons that get to the point. I wish I could get them all. What ever lesson or lessons you all decide on it is worth the money and well done. There is no risk involved because the lessons are done in a professional manor. Pick a lesson and go with it. No regrets here at all.
Oct 1, 2016
Oh Yes!
There's an abundance of self-help guitar instructional videos on the market and I own many. Robert's content is special in many ways and a cut above the rest. Here's why.

Firstly he's an extraordinary player. Just watching him perform is an inspiration and a privilege in itself. Luckily for us Robert is also a gifted and seasoned teacher who makes even complex passages seem achievable by breaking them down into familiar, bite size territory. But my favourite aspect must be his choice of notes. This is the kind of guitar playing I strive to achieve. Aiming for essential chordal tones, emphasizing triads, leaving breathing spaces, breaking up box positions and playing what's needed for the benefit of the piece. Although I've been playing for many years there's still much room for improvement and Roberts content just sparks my enthusiasm. From beginner to seasoned player you'll find what you need here.

The lessons are also skillfully captured and edited with unique camera angles and great sound, truly a professional package at a very reasonable price. I look forward to learning new ways to improve and define my own voice on the guitar and with Roberts enthusiastic approach I'm compelled and inspired to do so.
Oct 1, 2016
You got to help me review.
Excellent Robert, I've learnt so much from you in the last couple of years. I'm glad you took the course of being a top notched instructor. This new minor blues course, I have to give you 5 stars again!!!???
Sep 30, 2016
You got to help me
Downloaded this yesterday, and have been having at it since. Love the groove pulls you right in. Great solos, killer licks. Can't say enough good things about it. Best of all, the lesson format breaks it down into digestible pieces. Great job, Robert!
Sep 29, 2016
You Got To Help Me
Excellent course Robert!



I have completed the first 24 bars of the intermediate solo and I have to say I am very impressed with the course content and instruction and extremely pleased with my recording. The phrases have that jazz/rock influence that you add to all of you material. And with 44 licks there's the option for mixing and matching a personal interpretation. What a great minor blues to have under you fingers. Really looking forward to the rest of this solo and the advanced.



Great piece of work!
Sep 28, 2016
3 words... I love it!! Man... you hit it outta the park again!!!
Great solos.... nice beat, builds very nicely, sounds like it will have a few challenges in it, great double stops, pedal tones, nice legato, great tone... Am I leaving anything out...? ? I think it is a definite winner!!!
Sep 28, 2016
Robert,

Probably your best work ever!

Real goose bumps! This will probably be your highest mileage product yet.

Great job and thanks!