Jimi Hendrix style solo
Ok, this might sound like a horror score, but I assure you – Mary is just fine! Haha!
Joking aside, this is lesson for playing a solo in the style of Jimi Hendrix. The solo (key of A) is 16 bars long, and contains 17 licks. There are 6 videos, and you also get Tab, Guitar Pro and mp3 files.
As you might have guessed, the inspiration for this lesson came from Axis: Bold As Love and The Wind Cries Mary.
The tune, is an original I wrote for the Chord Embellishment lesson I recently did. If you bought that lesson, then you will recognize the chord progression. If you don't have it, you should get it, because I teach the chords, the progression and of course the melodic chord embellishments.
What you will learn in this lesson is a collection of typical Jimi licks, with my own style mixed in. You can hear similar licks in several of Jimi Hendrix's tunes.
The difficulty level is Intermediate towards Advanced. There some challenging licks in here, but there are also easier licks to explore. Hammer-on licks, sliding licks, melodic ideas, switching between swing and straight feel, embellishment licks – these are some of the types of licks you will learn.
I used Toontrack software for the guitar tone (Classic Amps) and I added a Fuzz pedal from Apple's Logic Pedalboard.
Full Solo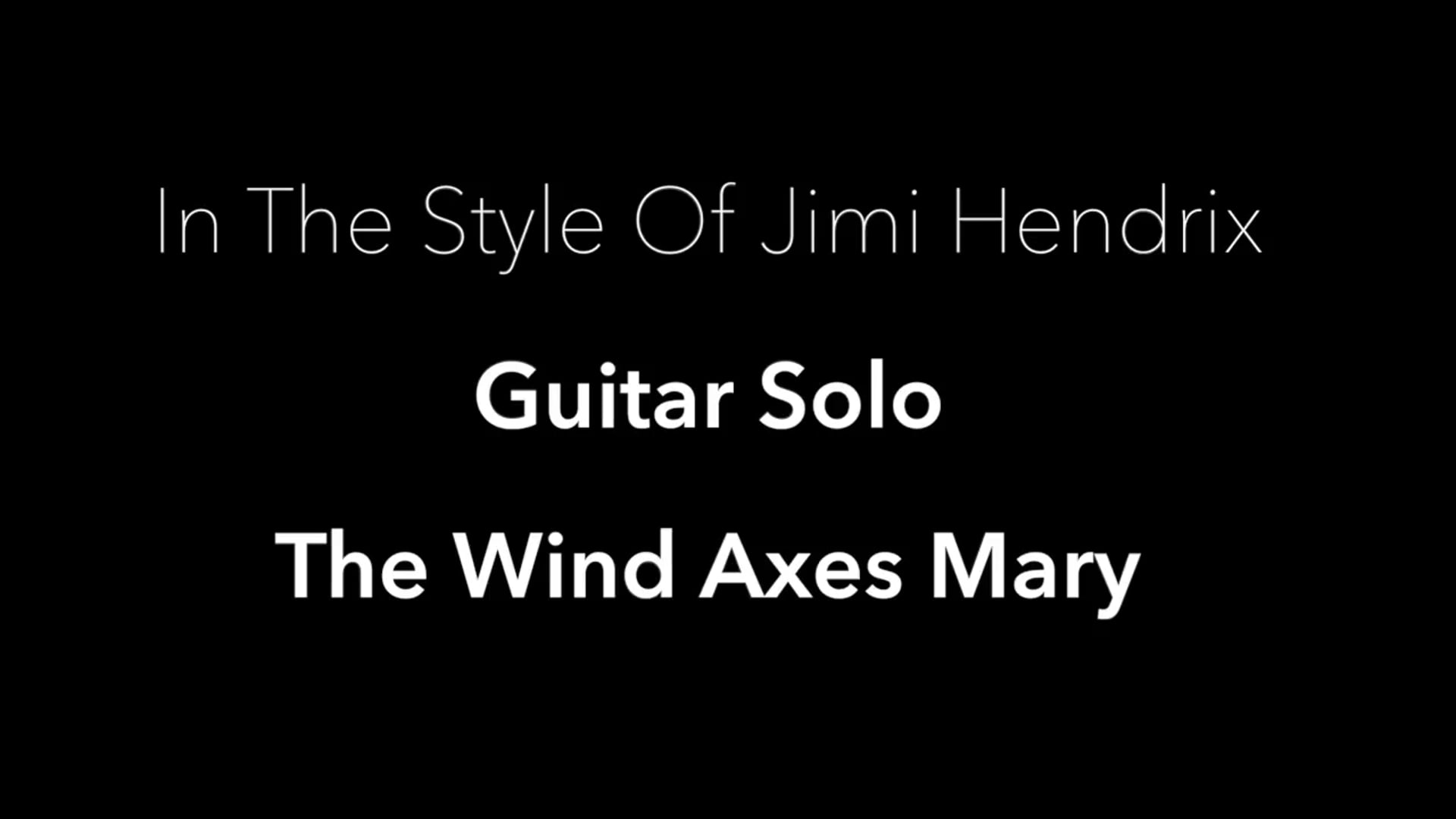 Buy Both Chord Embellishment & Solo Lesson as a Bundle
Buy This Solo Lesson
In The Style of Jimi Hendrix – The Wind Axes Mary
Average rating:
5 reviews
Apr 8, 2021
Great lessons
I am happy to have finally found Robert's lessons in the ocean of guitar courses on the web. They are lighthouses. I made a lot of progress since I follow them.

Thanks a lot and keep on rocking!
Oct 2, 2016
In The Style of Jimi Hendrix
Thank you from France, Robert, for this great and very clear lesson. At the beginning I didn't feel able to do it. I am working on it and thanks to you it's getting better every day. You are a good teacher and make me want to go on progressing.

Thanks again !!!
Jul 19, 2016
Hendrix Solo
The construction and detailed deconstruction of a Hendrix/Robert solo with a million $ camera view is an invaluable insight of how solos are created on the fly.
Jul 18, 2016
Wind Axes Mary
Great compliment to Robert's Jimi Hendrix Chord Embellishments. A great lesson on how to use chords to create a melody. Now with a cool solo to accompany it it's a complete package. Not only do you learn a cool Hendrix tune but you essentially learn a new skill on how to come up with your own ideas using chords as a the roadmap for a melody, solo or both. Great course Robert!
Jul 17, 2016
Super follow up
What a great follow up lesson to your recent In The Style Of Jimi Hendrix Chord Embellishments lesson... Both are awesome lessons and give a great amount of insight into Jimi's style... Time spent on these lessons is well spent. Thanks for putting these together!