What is this course about?
In this course, you'll learn an intermediate blues solo in E. It's a shuffle blues, and there are 23 really sweet licks in here. The tempo is at 120 beats per minute.
This solo is musical and realistic, like something a pretty good blues player might actually play. It's not just a bunch of licks strung together, because that never sounds natural. Instead, the idea is to tell a musical story, and to get the listener's attention, and simply make it sound good and real.
When I came up with the ideas for this solo, I was thinking a bit about Eric Clapton, and maybe you'll notice. I think there are traces of Stevie Ray Vaughan here as well.
Overall, you'll find several useful turnaround licks, blues scale licks, mixing the major and minor pentatonic, chord tone licks, triplet licks, chromatic passing notes, etc. Another thing you'll see are double-stops, which are a really nice tool to use. There's one lick where I bend and release a double-stop to make it sound really bluesy.
Everything is notated in both Tablature and Guitar Pro, and the backing track is available at different tempos, for ease of learning.
What's included?
2 Videos, Tablature, Guitar Pro, 4 backing tracks and mp3 version of the solo.
Each lick is played at normal speed, and at 75% of normal speed.
Each lick is broken down individually, and I explain it all for you in detail.
I have a progression counter displayed at the bottom, so it's easy to see where in the chord progression I'm playing each lick.
There are chapter markers for each lick, so it's very easy to locate any lick.
I explain the gear I used for this lesson and I provide some tips on using these ideas in different situations.
Overall, this is a great solo to learn, and the licks are reusable for any standard blues progression. I have provided all the tools you need to learn this. I hope you dig it!
Listen to the solo here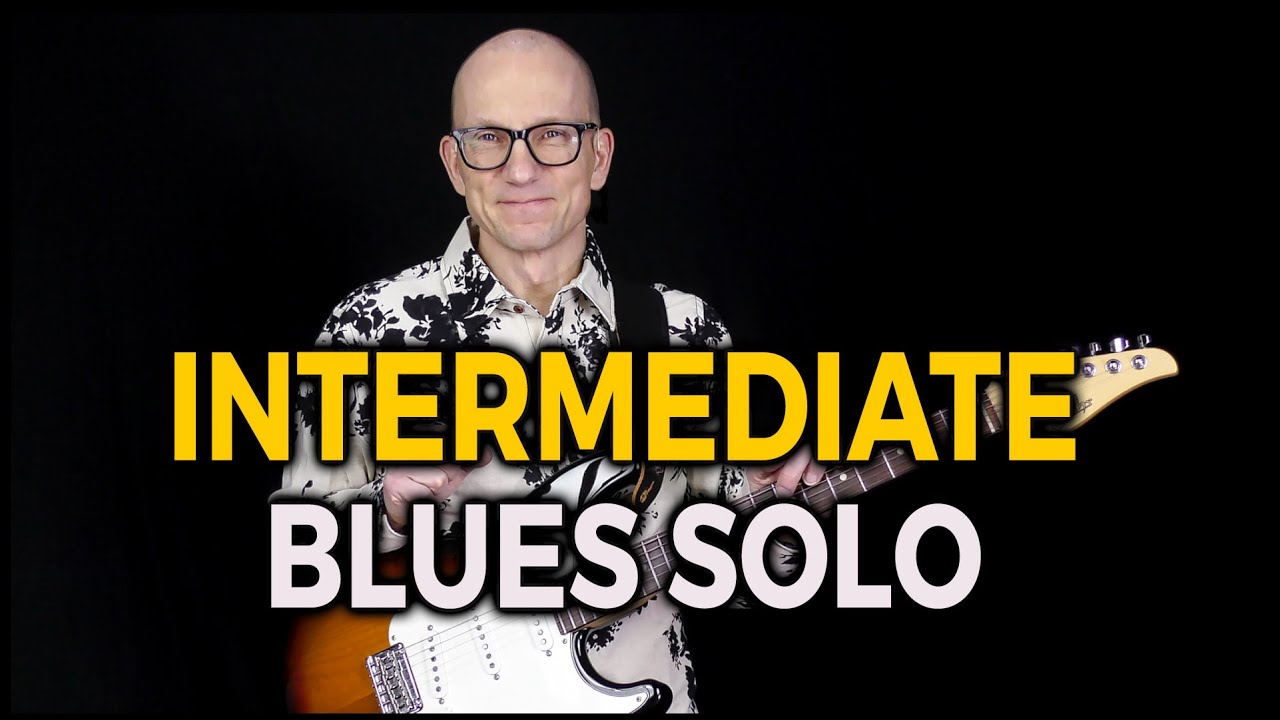 Order Now
After purchase, you will receive an email that contains the download link. If you don't get the email within a couple of minutes, check your spam folder.
Intermediate Blues Solo in E - Download
Video, 4 backing tracks, Performance track, Tablature, Guitar Pro. File size: 953 MB.
Reviews of this course
Intermediate Blues Solo in E
Average rating:
5 reviews
Sep 8, 2022
Intermediate Blues Solo in E
I really enjoyed this course. Lots of licks in it. Fun .

Lessons like this are making a big difference in my guitar playing.

Thank you Robert,



Linda B
Jan 19, 2021
blues solo
Very nice Robert !! Thanks !
Feb 24, 2020
Роберт, спасибо огромное. Я выучил intermediate blues, но играю на 110 bpm. Супер! У тебя лучшие уроки в интернете. Я стал спонсором твоего канала на youtube, надеюсь научусь играть блюз. Точнее, ты научишь. Мне очень нравитсяч.

Translation via Google:

Robert, thank you so much. I learned intermediate blues, but play at 110 bpm. Super! You have the best lessons on the Internet. I became the sponsor of your youtube channel, I hope to learn how to play the blues. More precisely, you will teach. I really like it.


Jan 12, 2020
Packed full of licks to learn, feel, and steal from up and down the neck. The choice of phrasing makes it easy to learn licks drawn from the blues greats.

Simple enough for the aspiring intermediate player, but the method behind this course builds a versatile approach to voicing and expression that pulls me up by the guitar strap to the next step in my playing skills.
Jan 12, 2020
Robert, this is excellent! It's an awesome solo with lots of great licks and style to it.. the backing tracks for 4 different tempos make this an even more useful learning tool... start with the slower backing track and build your way up to the faster tracks as you learn and develop.