Triad Voicings
Triads are a simple tool, but an extremely powerful one. In this lesson, I'm going to teach you 12 different voicings that I use a lot myself.
I also have a 2nd lesson on how to use these for comping. I call that one Comping With Triads.
Why triads? Because they are easy to play (only 3 notes) and they are the most powerful chord tones, which makes them useful for both rhythm and lead guitar. They provide you with freedom, and they greatly help you understand the fretboard. You see, triads will open up the fretboard in a whole new way, if you study them carefully.
I do not teach soloing with triads in this lesson. You have to really know these voicings like the back of your hand before you can start using them freely. So, that's what this is all about. KNOWING where these triads are, on the 4 thinnest strings.
If you memorize these 12 voicings, and know which are the notes for each, you'll be well on your way to play more melodically, with more variation, using powerful chord tones, compared to if you mostly rely on scale patterns (which can be a really dumb idea).
The next lesson in this series focuses on a variety of chord progressions using these triads.
But we have to learn how to crawl before we can start sprinting, so make sure you really know these triads well.
Minor Triads From Course 2: ---
Order Here
Triads Workout
3 Downloads: Triad Voicings + Comping With Triads + Voicing & Comping The Blues. Over 5.5 hours, focused on learning the voicings and using them in a real situation.
Download Bundle: Triad Voicings + Comping With Triads
2 Downloads: Triad Voicings + Comping With Triads.
2 DVDs : Triad Voicings + Comping With Triads
2 DVDs with Download included.
Order Triad Voicings (1st Course)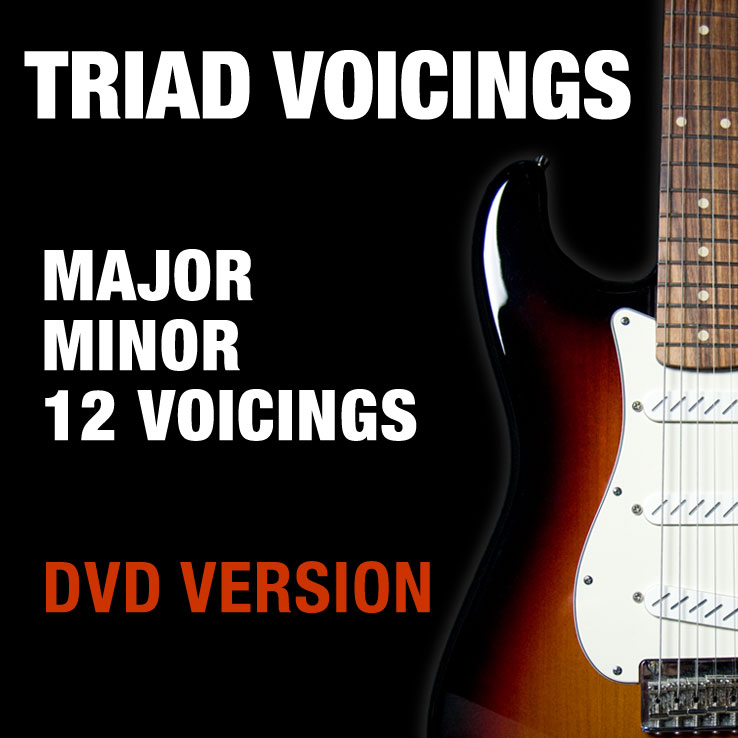 Order Comping With Triads (2nd Course)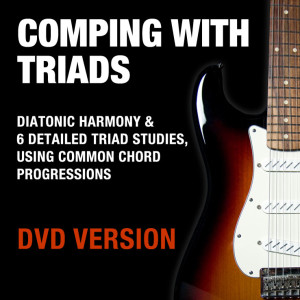 ---
Triads Poster
This poster can be of great help – put it on the wall where you practice – very handy!
---
Triad Voicings
Average rating:
6 reviews
Jun 12, 2020
Triads
Absolutely smashing lesson and straight to the point. It's the secret to unlocking the fretboard or a good part of it. Thank you very much Robert. Bravo for the lesson.
Ahmed
Apr 27, 2019
Triad Review
I wish Robert developed more lessons like this. I learned more from these lessons than just about any I've purchased. And the best part is that once you know how to play the triads you can begin to make your own melodies and progressions that sound great.
Apr 8, 2016
Triad Voicings
I would like to say I liked your Triad Voicing course, I put your triad theory together awhile back, but I got a lot more out of getting your course and thankyou for putting it out. It's a great theory tool for playing up the neck and getting around some tricky Bar chords, which suits me just great!
Nov 5, 2015
Solid and fun fundamentals
Robert's older courses all have great content, but the more recent ones have also hit the nail on the head in the format. Concepts broken down into bite-sized videos (instead of 1 hour plus lessons), matched with backing tracks and excellent (easy to read) TABs. This course is no exception, with each lesson building on the skills and knowledge you acquire in the previous ones.
Oct 29, 2015
Triad Voicings - Super Course
I've been through this course from beginning to end. If you want to learn your major and minor triads on the first four strings using an approach that will certainly engrain in your fingers and memory for a long time, this is the course you need. Not to mention the chord progressions and soloing courses that will follow this one and take your fret board knowledge, comping and soling chops to the next level. A super bargain for a super quality course, presented by a first class instructor. Don't miss out!
Oct 28, 2015
Another awesome course from MGA! This course will help you to learn and understand the notes on the neck. If you want to learn the sweet notes, the key notes that sound so sweet over the underlying chords then get this course and dig into it. This is gold that will help get your playing sounding sweet! You can't go wrong with this course and especially at this price! It's a bargain.